Hakuen Studio Self Switches for RPG Maker MV MZ
A downloadable RPG Maker Plugin
Want to support me?
Introduction
You know that you can enable/disable self switches from an event page. But if you want to turn on/off a self switch of other events you will have to use the script call. The thing is that not everyone is familiar with the script call command.
This plugin enables you to turn on/off the self switch of other events
(even more than one) with a simple and easy plugin command!
Also, add new self switches to events!
Features
Turn on/off/toggle one or more self switches of one or more events with a plugin command.
Add more self switches to events.
Change the value of self switches with a delay(frames/seconds/minutes)
How to use
To use more self switches than the default ones(A, B, C, D) you have to name a regular switch like that: "SS: E"(without quotes, it's not case sensitive).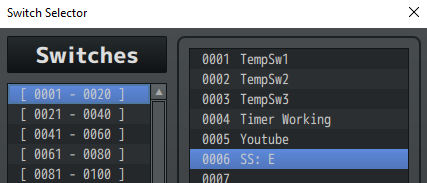 You can use it in page conditions too.

The plugin will auto remove the "SS:" and any white space, leaving only the "E".

You can check the value like any other self switch in the conditional branch script call:
$gameSelfSwitches.value([1, 12, "E"])
Then if you want to activate the new self switch "E", use the plugin command and just put "E" in the self switch field.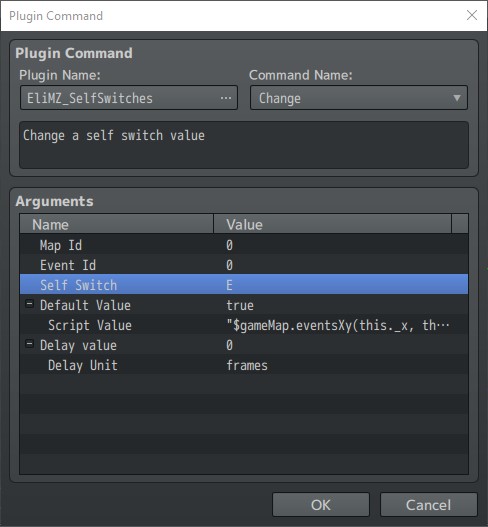 The plugin command also has a delay argument. If it is greater than zero, then the self switch will change its value according to the delay set(frames, seconds, or minutes).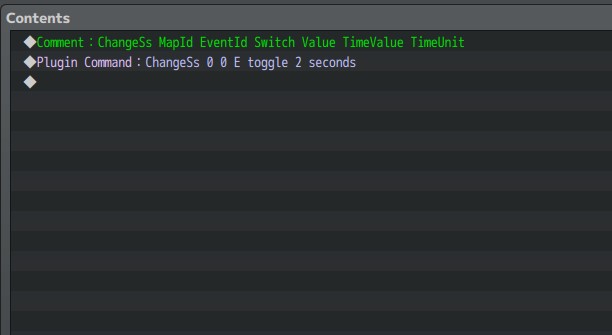 Download
Click download now to get access to the following files:
MZ - Self Switches 5.0.0
2 kB
MV - Self Switches 5.0.0
2 kB
MZ - Self Switches 3.1.3
3 kB