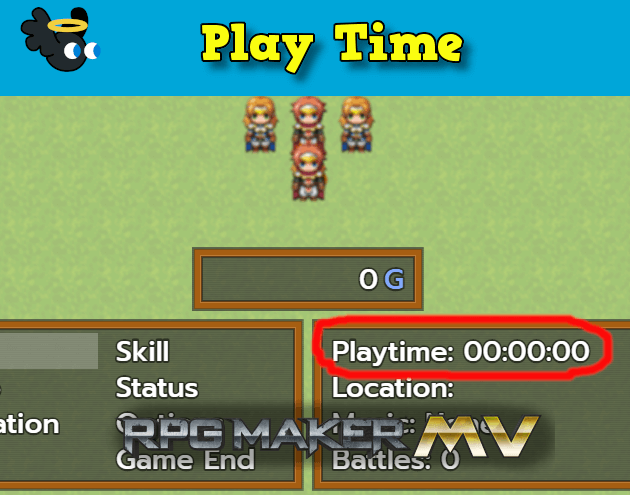 Eli PlayTime for RPG Maker MV
A downloadable Rpg Maker Mv Plugin
Terms of use / Termos de uso
https://www.hakuenstudio.com/rpg-maker/terms-of-use

Introduction
Sometimes you want the game to not count the PlayTime. For example, if you made a title screen in a map(with events) the game will already start counting the playtime.
With this plugin you can Pause game time(PlayTime, not the Timer) counting by turning on a switch or using a plugin command.
How to use
You can choose to start the game not counting the playtime in the plugin parameters.
You can change that in mid-game using plugin commands:
PausePlayTime
ResumePlayTime
ResetPlayTime
Or you can use a switch to pause or resume playtime.
Keep in mind that the plugin command has a higher priority than the switch.

Introdução
Por algum motivo você pode querer pausar o tempo de jogo. Por exemplo, se
fizer uma tela de título por eventos(em um mapa), poderá querer que o tempo
não conte neste mapa.
Com esse plugin você pode fazer isso usando um comando de plugin ou uma switch.
OBS: Este plugin se refere ao PlayTime não ao cronômetro.
Como usar
Você pode escolher por começar o jogo já com o tempo pausado através dos
parâmetros de plugin. Você poderá escolher dentro do jogo quando quer que a
contagem comece ou pause e até resete através dos comandos de plugin:
PausePlayTime
ResumePlayTime
ResetPlayTime
Ou pode usar uma switch para pausar ou resumir a contagem.
Tenha em mente que o comando de plugin tem prioridade sobre a switch.
Download
Click download now to get access to the following files: