Hakuen Studio Face Window for RPG Maker MV MZ
A downloadable RPG Maker Plugin

Introduction
Showing the faces of the characters in the message window is cool!
But sometimes it can get in the way of calculating the size of the text we write.
Or perhaps, you may want to show the character's face elsewhere on your game screen.
This plugin will help you do that!
Features
Show the character's face in a window apart from the message box.
Use any face size.
Show the window using "easing animations"!
Choose the tone and type of background!
Animated faces!
Different animations for when the message box is writing and when it is not (Idle and Talk animations).
Download
Click download now to get access to the following files:
MZ - FaceWindow 5.2.1
12 kB
MV - FaceWindow 5.1.1(UNSUPPORTED)
12 kB
Comments
Log in with itch.io to leave a comment.
Thank you so much for this. My project desperately needed this.
I wish I could change positioning based on name length, because I can't really center the window directly above the character name, it will center over only ones I specifically set it for.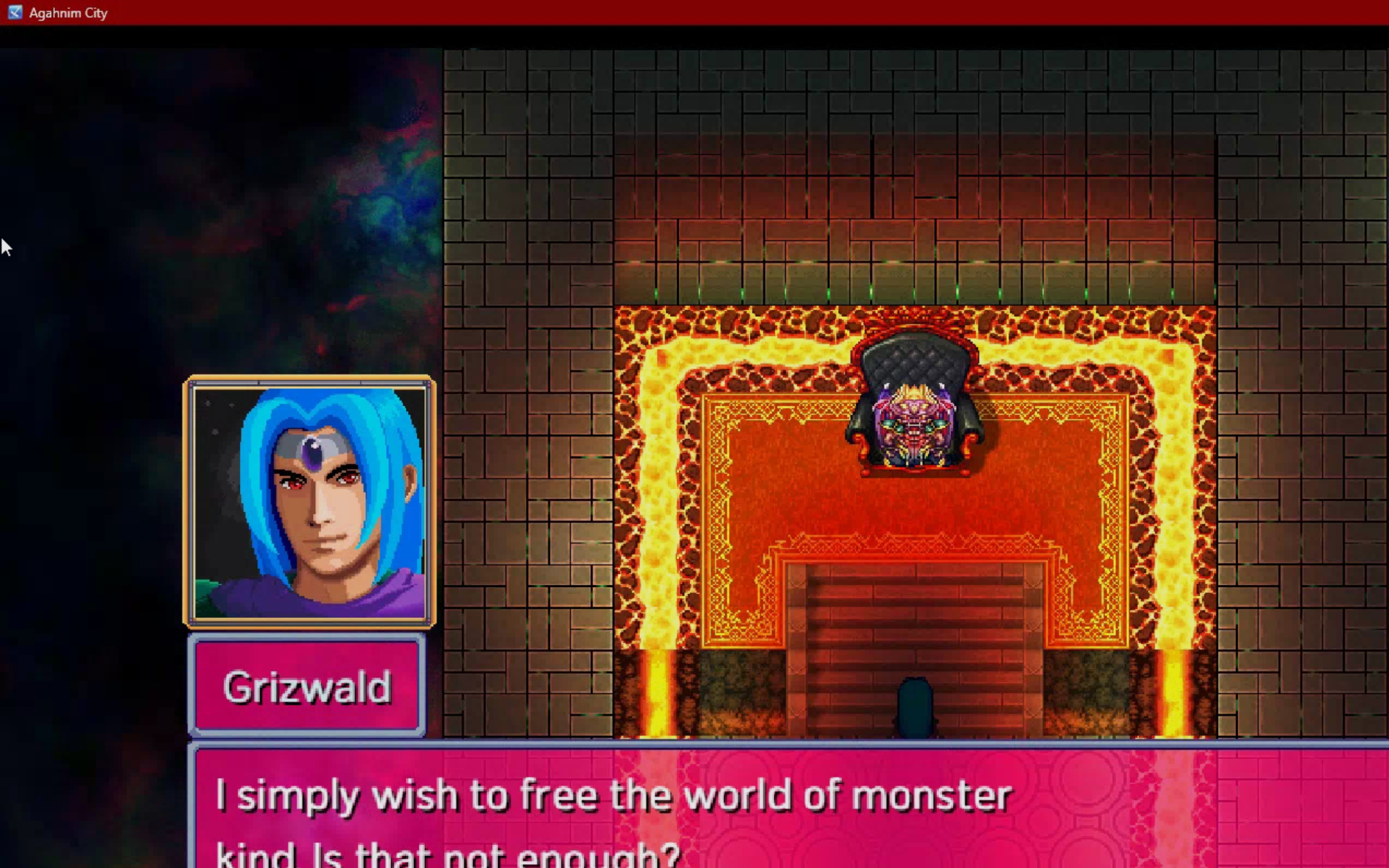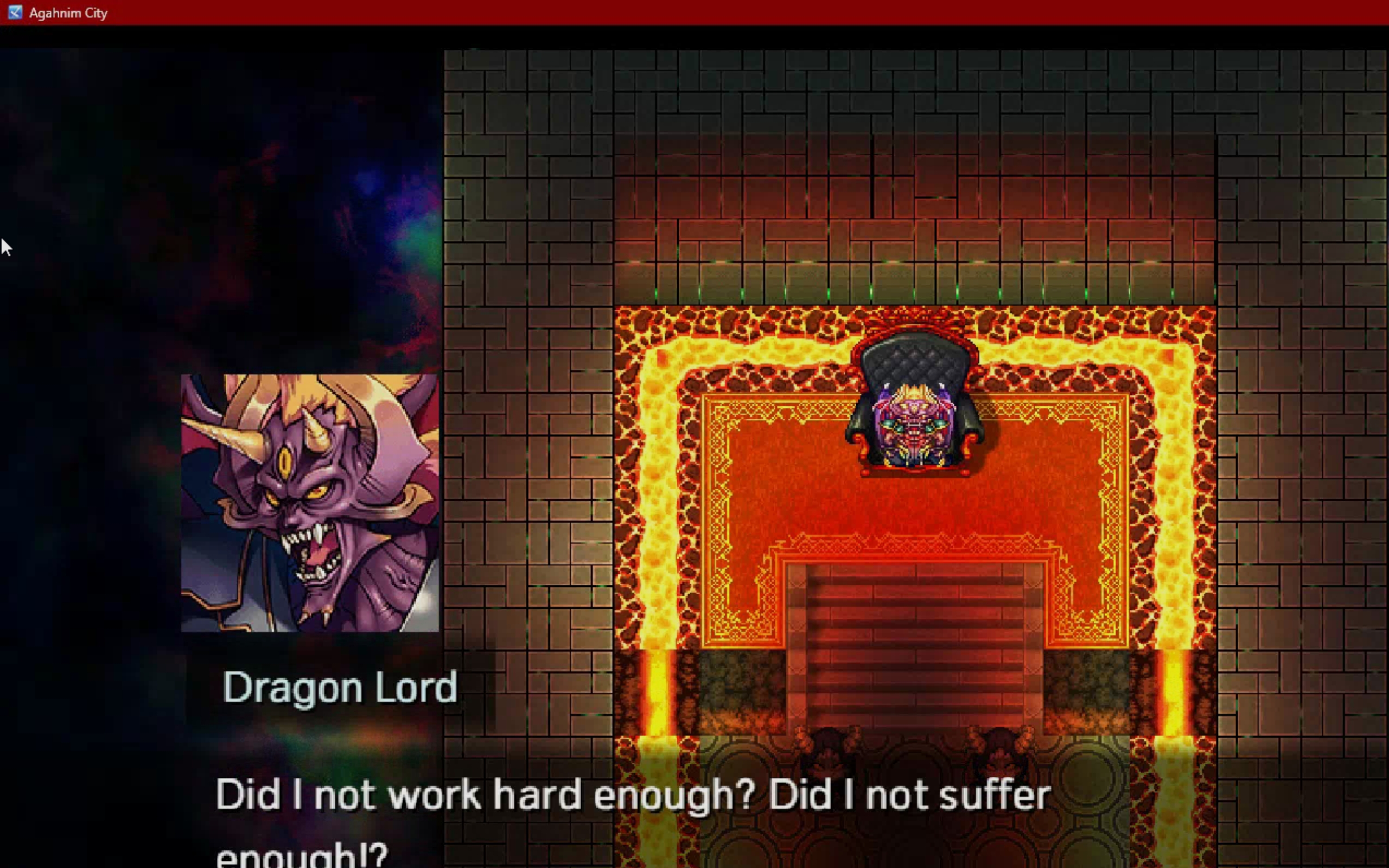 Also, I'm not sure why, but when I have a different character with no portrait talking, the last portrait just sits partially in the corner.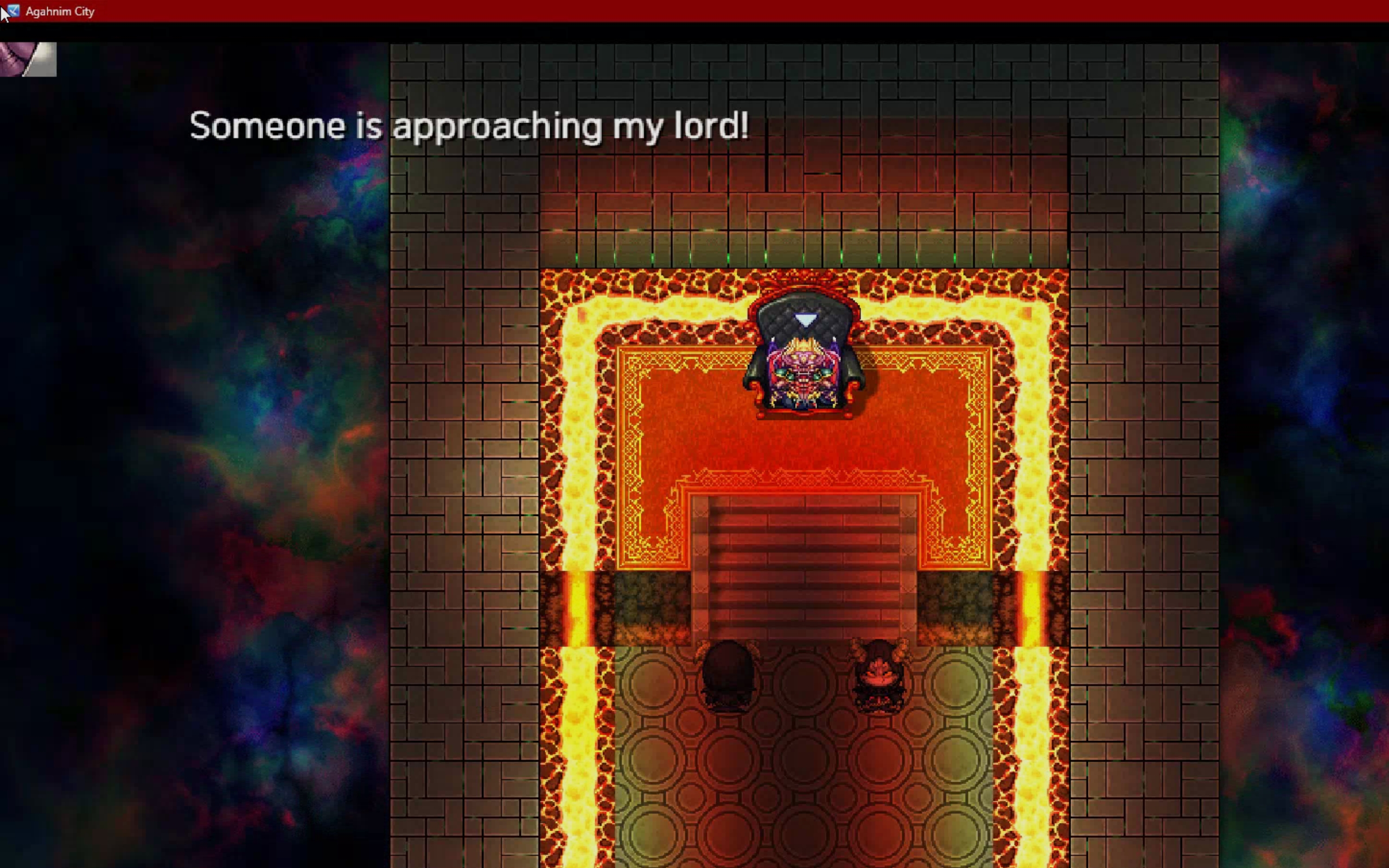 Hi there!
I think I can create a way for you to center the window based on the name length. I just need to let the plugin evaluate a formula on the offset arguments of the plugin parameter related to the window position.
But honestly, I think it can be strange because it will lose symmetry with the Message window. But I will add it anyway because it can be used for multiple stuff.
About this one:
"Also, I'm not sure why, but when I have a different character with no portrait talking, the last portrait just sits partially in the corner."
Are you using MV or MZ?
The problem also happens on a clean project, meaning only with my plugins?
If yes, let me know and I will try to reproduce and fix it.
If not, then it is a compatibility problem. I will need you to track down the plugin doing this. So, disable one plugin and test the game again. When the problem is gone, the last disabled plugin can be the culprit. Let me know what the plugin is and I will try to make a compatibility.
Can't seem to get this to activate, is there a specific scriptcall to have the face window appear? Added your CoreEliBook plugin just incase, and using on a new project, still can't get it to work sadly..
Not sure if I'm being stupid or not :p
Hi there!
Thank you so much for the screenshots!
Can you take a look at the plugin parameters and take a screenshot for me?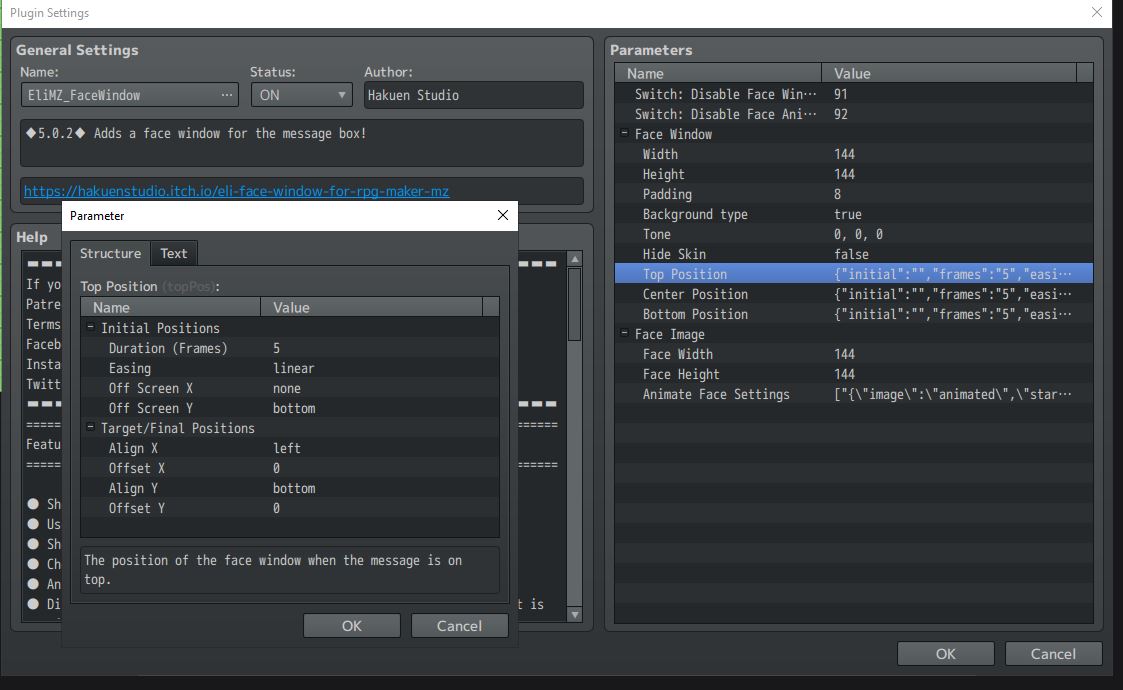 I'm guessing that maybe the error is that is a plugin parameter that is not the right setup. Maybe I can have also made a mistake putting the default parameter value wrong, so it can be triggering a silent error.
You can also press F12, it will open a browser, then you go to the Console tab and send me a screenshot of it.
Sure! Here is the popup for top parameter and bottom parameter.
Haven't altered anything so far.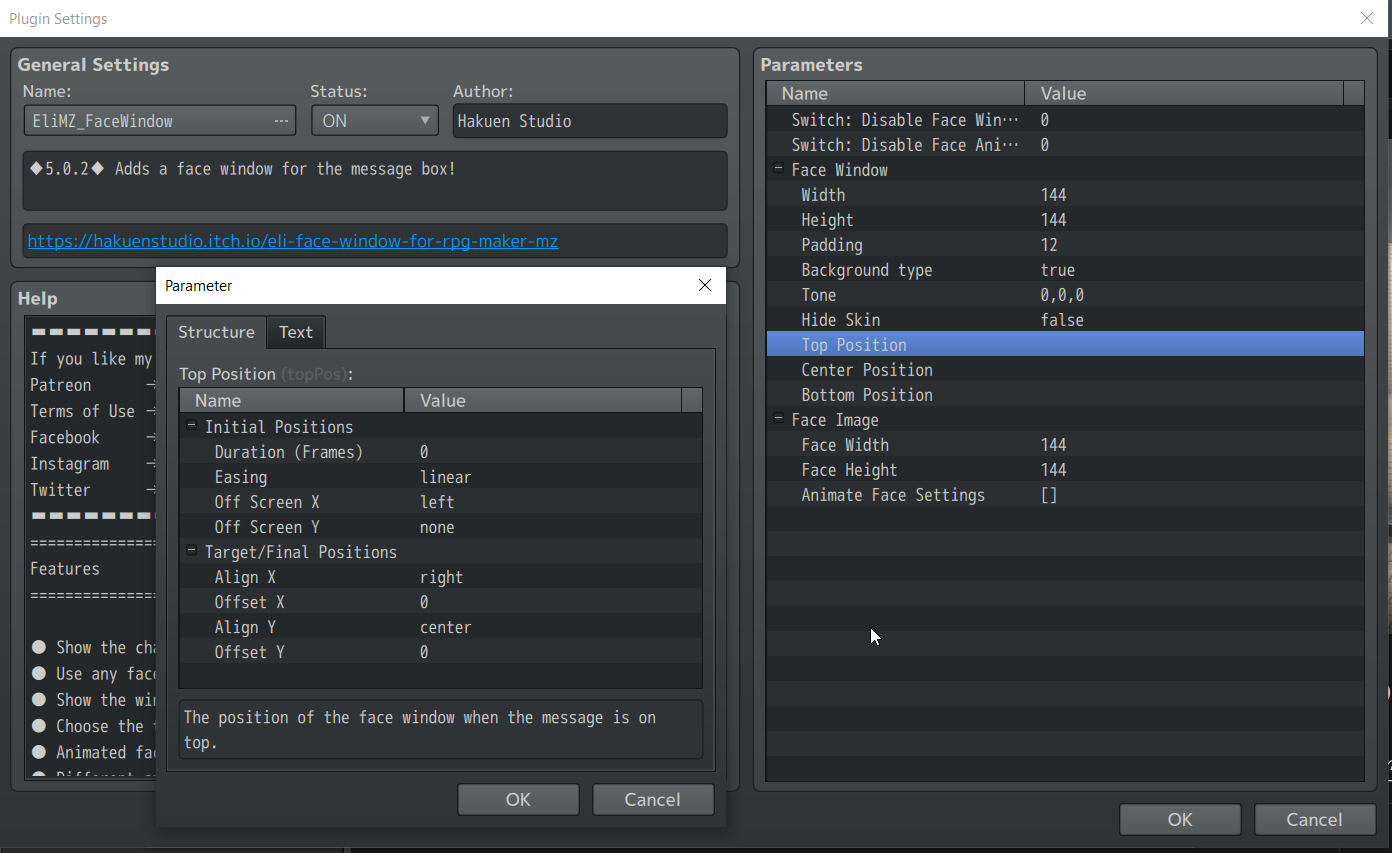 Yeah, that is what I thought. The parameters are empty and that is causing the issue. I will fix this in the next update.
But if you just open those parameters, pressed OK, and close the plugin manager applying the changes it will work.
Those fields cannot be empty.
You're right, that solved it completely!
(heads up, i think the default values have the face window pop up and sit to the left almost completely off-screen. Not an issue since I can just mess with x and y to have it show up on-screen, but that may be something to adjust as ppl may think it's not working).
Thank you so much for the awseome script! def going to be looking at your other works!
Oh, nice! Thanks for the heads up, I will take a look into that!
Glad you liked it! Have fun :)